Doctors
Roger Carlson, M.D.
Dr. Carlson trained at UCLA in Ophthalmology, having graduated from the University of Washington. He joined Dr. H. Randall Madeley in Vallejo following his residency. Dr. Carlson is married and father of two daughters, one of whom is a pediatrician. He is past president of the Solano County Medical Society,and the Solano County IPA and former vice chair of the Sutter Solano Medical Center. Dr. Carlson travels to Zambia yearly to provide eye care through International Vision Volunteers.
Anthony Agadzi, M.D.
Dr. Agadzi joined our practice in 2007. He received his medical degree from the University of Minnesota Medical School and completed his residency in Ophthalmology at the University of California at San Francisco. He is board-certified by the American Board of Opthalmology and has interests in cataract surgery with multifocal and toric lens implants, as well as glaucoma surgery and lasers. Dr. Agadzi is fluent in Spanish and enjoys wine, skiing, travelling and volunteering. He is a clinical professor at UCSF Department of Opthalmology with resident teaching responsibilities. Dr. Agadzi is also a Vallejo Executive Lions Club member which partners with the Lions Eye Foundation.
Thomas Cushing, O.D.
Dr. Cushing graduated from the University of Houston, College of Optometry. He is licensed by the National Board of Optometry. He practiced in Texas for ten years before moving to California in 1996. While in Texas he also worked as a clinical consultant for Alcon Laboratories, Inc.
Crizelda (Crissy) Lauron, O.D.
Dr. Crizelda (Crissy) Lauron received her Bachelor of Science degree in Mathematics with minors in Chemistry and Psychology at the University of Miami. She received her Doctorate of Optometry from Western University of Health Sciences in Pomona, California. Additionally, she was a student fellow with the American Academy of Optometry. Her clinical externships included: primary eye care at a military hospital in Fort Belvoir, Virginia, private practices in Southern California, a VA outpatient clinic in The Villages, Florida, and behavioral optometry with a neurodevelopmental specialist in Plano, Texas. She is a member of the California Optometric Association, Alameda/Contra Costa Counties Optometric Society, and American Optometric Association. In her spare time, she enjoys yoga, cooking, hiking, travelling, and most importantly, spending quality time with family and friends.
Dedicated Professionals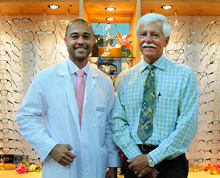 Both Dr. Carlson and Dr. Agadzi are board certified ophthalmologists. Opthalmologists are medical doctors (M.D.s) who complete 4 years of graduate medical study, 1 year of training in medicine/surgery, and 3 years of residency. Dr. Cushing is an optometrist certified by the American Optometric Association. Optometrists (O.D.s) complete 4 years of graduate optometric study and specialize in refractive care. Our opticians are professionally trained to custom fit and dispense prescription glasses. Ophthalmic technicians perform various testing as ordered by ophthalmologists and optometrists.